Rec Center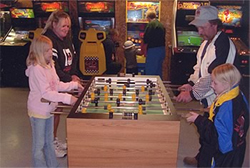 The Rec Center at Maple Heights Campground offers a 55" TV in the rec room. Our Snack Bar is popular for its pizzas, slush drinks, and scoop ice cream.
Play Ground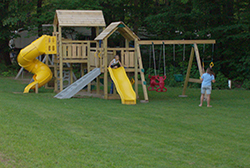 Just outside the Rec Center is a play area for young children.
We also offer an 10-hole mini-golf course, fun for all ages, and we have volleyball, ladder golf, bean bags, and horseshoes for your enjoyment as well.
Heated Pool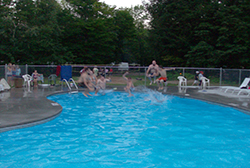 Take a break from the heat and cool off in our 50-foot heated pool.
Also available for your use is a picnic pavilion.
Pedal Kart Rentals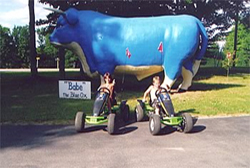 Rent a Pedal Kart and take a spin around the campground. There's even room for a youngster on the back, a fun alternative to a stroller.
Biking & Hiking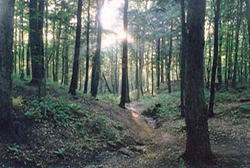 Biking or hiking through the campground or beyond into the Nicolet National Forest offers another way to unwind and enjoy the natural beauty of this area.
The trail at the end of the campground leads to McCaslin Brook and some of the finest trout fishing in the State.
Fishing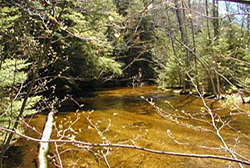 Multitudes of streams and rivers in the immediate area and we are within 10 miles of at least 60 lakes, offering a variety of fishing opportunities, from lunker bass and walleye to panfish. Nearaby lakes also provide public beaches and boat launches for your swimming and boating pleasure.
Whitewater Rafting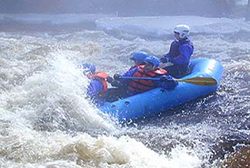 For the more adventurous a spring or summer whitewater rafting trip may be more to your liking. We are located between two of the best rafting rivers in the Midwest, the Wolf and the Peshtigo Rivers.
Much More...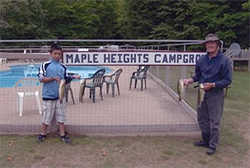 In addition to fishing and hunting, other popular area activities include hiking, canoeing, biking and horseback riding. The area offers many scenic areas for you to explore include the historic Cathedral of Pines, just a few miles from the campground. We are right on the ATV and Snowmobile trails and close to cross-country ski trails and the McCaslin Brook 18-Hole Golf Course is just a few miles down the road.